UNDER CONSTRUCTION PLEASE EXCUSE CURRENT DIS ARRAY SEVERAL ATTEMPTS ON OUR LIVES RECENTLY- ATTEMPTING UPDATES WHILE MY MOTHER AND I REMAIN UNDER SIEGE!!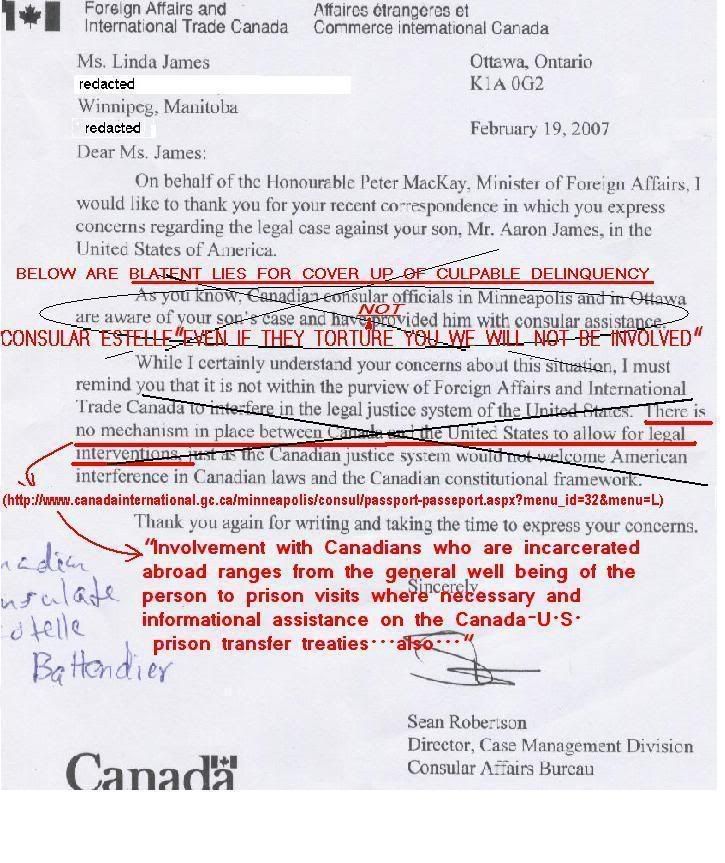 as per above Foreign Affairs Official document : "Involvement with Canadians who are incarcerated abroad ranges from the general well being of the person to prison visits where necessary and informational assistance on the Canada-U.S. prison transfer treaties... http://www.canadainternational.gc.ca/minneapolis/consul/passport-passeport.aspx?menu_id=32&menu=L

Minister of Foreign Affairs Peter McKay As Per Consular Form above, is
CRIMINALLY NEGLIGENT IN FRAUDULENT DISPLAY OF SUPPOSED CONSULAR
ASSISTANCE TO OUR FAMILY.

Involvement with Canadians who are incarcerated abroad ranges from the general well being of the person to prison visits where necessary and informational assistance on the Canada-U.S. prison transfer treaties. The Consular Section of the Consulate General of Canada in Minneapolis provides the following services: Assistance to Canadians in distress: Canadian citizens in distress outside Canada can reach the Consular Affairs Section in Minneapolis during normal business hours (M-F 9:00-12:00 and 1:00-4:00 CET) at 1-612-333-4641. reference source: http://www.canadainternational.gc.ca/minneapolis/consul/passport-passeport.aspx?menu_id=32&menu=L

The Consular Client Services Division of Foreign Affairs Canada maintains a 24 hour, seven days a week emergency service for Canadian citizens, designed to assist during periods the Consulate may be closed. The service covers such matters as deaths, illness, accidents, evacuations, missing persons, child abductions/custody, kidnapping, arrest and detention and passport issues. The emergency service is managed from Ottawa and can be accessed on the following number from the United States: 1-800-387-3124 or 1-613-996-8885.
http://www.canadainternational.gc.ca/minneapolis/consul/passport-passeport.aspx?menu_id=32&menu=L
Thurs Jan 29/09 Appeal to Jon Gerrard MLA ignored…Shades of Dec 4/07 kidnapping manhunt scenario where promise of assistance from government *prior to the initial abduction attempt vanished immediately thereafter –telling of government complicity:
On Thursday, Jan 29/09 I placed a call to Georgina (204 945 5194), secretarial assistant to Jon Gerrard Liberal MLA in attempt to garner assistance from their office; Georgina was dismissive attempting to deflect accountability on part of government. She stated " Yes I think if I recall you were dealing with Glen before- he's no longer here Jon Gerrard is expecting election call soon and so is indisposed …" As I prompted further with the assertion that our case is extremely serious and requires timely attention, she led in with a leading question to the effect of, "and is your case in front of the courts now?", to which I answered that it was, in that we were dealing with civil action against Winnipeg Police in response to their egregious attempts upon my person. Immediately, as if in anticipation of my response, she replied, "Yes well, we don't get involved in cases that are before the court."
I was reminded instantly of the same tactic used by Glen Ewald in capacity legislative assistant for NDP MP Penny Priddy:
Oct 24/07 Roch Tasse International Civil Liberties Monitoring Group Head speaks with me by phone, to indicate his intentions of appeal to MP Penny Priddy in Parliament the next day- evidence strongly suggests our phone line is tapped- 3 days later came the initial of now many attempts upon my abduction / murder:
On or about Oct 24/07, only 3 days prior to the initial attempt upon my abduction by criminally charged Winnipeg Police, Roch Tasse of the International Civil Liberties Monitoring Group (ICLMG) had assured us he would speak with MP Penny Priddy in parliament about our case. We had been speaking on my home land line which others including Michelle Gross of Communities United Against Police Brutality and Chris Andre from KBOO radio, have assured us is highly tapped, given the telling buzzing and 'whirring' noises constantly heard on the line.
Roch Tasse of the international Civil Liberties Monitoring Group, had directed us to Glen Ewald (613) 992-2924 legislative assistant for MP Penny Priddy (ph:604-586-2441 Fax: 250-586-2445 E-mail: priddy.p@parl.gc.ca) shortly prior to the onset of the abduction attempts upon my person and in the week prior to the initial attempt by police/government upon my abduction he had provided assurances that our matter warranted attention and advocacy- immediately following the initial abduction attempt, as I called the office from undisclosed location outdoors amidst the cold from my cell phone, *conveniently, that promise of assistance vanished and was no where to be found:
Upon that urgent Dec 4/07 phone call, she had stated "Glen cannot come to the phone now- he's busy doing something important- parliamentary session is closing over the next few weeks." I spent the night in -30 degree weather in an abandoned wear house until local activists could see to my transport out of the city to remote retreat in the country.
MP PENNY PRIDDY DISMISSIVE UNRESPONSIVE DESPITE TALKS FROM ROCHE TASSE IN PARLIAMENT ON OUR BEHALF:
Roche Tasse had approached MP Penny Priddy In parliament. As this email shows, she has been unresponsive and dismissive regarding our case. Further below is an email I sent to her only 2 days prior to the Oct 27/07 kidnapping attempt/ home raid, the first of now 15 attempts towards this effect, by Winnipeg Police acting on behalf of the U.S.
-----Original Message-----
From: Aaron James [mailto:resist1000@usa.com]
Sent: Wednesday, May 14, 2008 7:15 PM
To: rocht@iclmg.ca
Cc: lesleyhughescanada@yahoo.com; lindarose1944@mail.com
Subject: Parliament?
Hi Roch, this is Aaron. I just wanted to know if Penny Priddy has made any indications towards follow through or if you have been able to press her on the matter. I cannot accept that they are just simply ignoring this. If they continue to ignore us in this way while we remain in danger, I would have to speak out publicly against her office at this point. I think their neglect of your requests and suggestions concerning our docket and others, has been shameful.

Once again, thank you for all of you assistance over this time,
sincerely ,
A. J.
---
Hi Aaron,
I have had no contact with her office for quite some time and therefore no recent

indications of her level of concern or interest. I would suggest you try and contact her
office directly again. Her legislative assistant is Glen Ewald and he can be reached at

(613) 992-2924. Just a thought, but would it make sense for your lawyer to start contacting

elected members of Parliament ….. and you local politicians on your behalf? I have dealt

with some other "national security" cases where it's the lawyers who take the lead on

advocacy on behalf of their clients.
Take care,
Roch
P.S. I also want to confirm that I have received your latest e-mails with the updated websites.
__________________________________________________________________________________________
Roch Tassé
Coordinator / Coordonnateur
International Civil Liberties Monitoring Group
Coalition pour la surveillance internationale des libertés civiles
(613) 241-5298
-----Original Message-----
From: Aaron James [mailto:resist1000@usa.com]
Sent: Wednesday, May 14, 2008 7:15 PM
To: rocht@iclmg.ca
Cc: lesleyhughescanada@yahoo.com; lindarose1944@mail.com
Subject: Parliament?
Hi Roch, this is Aaron. I just wanted to know if Penny Priddy has made any indications
towards follow through or if you have been able to press her on the matter. I cannot accept that

they are just simply ignoring this. If they continue to ignore us in this way while we remain in danger,

I would have to speak out publicly against her office at this point. I think their neglect of
your requests and suggestions concerning our docket and others, has been shameful.

Once again, thank you for all of you assistance over this time,
sincerely ,
A. J.
MESSAGE TO OFFICE PENNY PRIDDY PUBLIC SAFETY CRITIC ONLY TWO DAYS PRIOR TO THE OCT 27/07 ATTACK:
To Penny Priddy, MP for Surrey B.C and critic for public safety. (in the care of Glenn, legislative assistant to Penny Priddy, with whom I have spoken on several occasions now.) This is Aaron James. I am forwarding you this letter in your capacity as pubic safety critic as pertains to the injustices and violations my mother and I have incurred and sustained for almost 2 years duration now at the hands of U.S. racial persecution and covert tyranny with the aid of Canadian delinquency and complicity amongst governing bodies. I have forwarded this message on to all other parties listed below yesterday however, I had the incorrect emailing address for you and as such I am correcting this today and forward you this message thusly, for your review.
Hello Mr. Roche Tasse (International Civil Liberties Monitoring Group), Lesley Hughes (Canadian Dimension Magazine), Michelle Gross (Communities United Against Police Brutality), honorable members of Parliament:
further to updates concerning our ordeal in the international racial profiling attack and persecution my mother and I have sustained now 2 years ongoing,
I wanted to be sure to mention the extension of good faith afforded us by Glenn, legislative assistant to Penny Priddy, Surrey B.C. M.P. and public safety critic, with whom I have had extensive conversation as of this day October 24th /07. Having born witness to a detailed explanation of our ordeal given of my account, he has indicated the need for follow up and public inquiry into our plight. We are very appreciative of this gesture towards due process and justice- elements that have been sorely lacking in the hands of the Conservative government thus far.
...and so beyond this amicable exchange between Glenn and myself,;
beyond the Oct 14 /07 CCPA (Canadian Centre for Policy Alternatives) Forum held in Ottawa at which our material was hosted, and the Stephan Dion Liberal Convention held here in Winnipeg wherein I was able to direct questions to Mr. Dion directly concerning issues surrounding our ordeal as well as S.P.P. (Security and Prosperity Partnership) concerns, security certificates issues, and issues generally surrounding imposed racial disparity and persecution as reflected back upon our plight- I would like to add the following final updates concerning our ordeal:
As honorable MP's and members of this circle may already know, a meeting of MP's is to be held tomorrow at parliament, at which Mr. Roche Tasse, Honorable Joe Comartin, honorable Penny Priddy and other people of influence surrounding civil rights justice and public safety will be present.
It is my hope that members will feel amenable to discussion of our ordeal with Mr. Roche Tasse, as he is quite familiar with the main nuances surrounding our ordeal. We are hopeful that between this meeting of minds, and a Friday meeting intended with MP Raymond Simard, as well as coordinated communication and cooperation between all parties of influence herein, that the wheels of progressive change and resolution can be moved forward.
To update all parties concerning the Arar ordeal I think is quite advantageous in exemplifying the sordid state of affairs concerning racial disparity that currently exists in the United States, where torture is now sanctioned and overt racially motivated attacks go unchallenged:
Oct 24 on "As it happens' evening edition:
David Coleman attorney for Maher Arar in his civil suit indicates the civil suit is scheduled to move forward next month.
Condeleezza Rice and the Bush administration state that they have secret information that still poses Mr. Arar as a security risk and threat, documents they refuse to disclose citing national security. Canadian officiates, As It Happens reports, have gone down to the US to review these same documents, and have reported that they find nothing that warrants the U.S. Administration's concern. It has now been well established that Mr. Arar has no Al- ties, but the contention of Mr Coleman is that U.S. must now save face in the light of an unwarranted extradition of the innocent unto torture abroad.
Condaleezza Rice, expounded that the U.S. will not admit to Arar's torture, referring only to "Arar's claims that he was tortured"
Moreover, Rice stated, "even if Arar had been sent to the United States to be tortured, this would not constitute a violation of the Charter of Rights and Freedoms since Mr. Arar is not a U.S. Citizen, making his rendition to torture something that cannot be designated unconstitutional."
Condalessa continued, that moreover, due to national security issues, the United States could not hold public investigation into the treatment of the Arar affair which she qualified as "an imperfect treatment" in that it would compromise the security of top secret infrastructures of governing bodies involved.
Rice stated also, that the U.S. tries not to send foreigners to countries known to practice torture, but was reminded by the Congressman who was posing questions, that it is well known that Syria now has 38 known methods of torture for the extraction of information.
Moreover, attorney David Coleman for Mr. Arar, states that it is now well established that the United States, since 911, has made it a common practice of the rendition of foreigners to foreign countries known for practicing torture for the purpose the extraction of information. Moreover, the United States currently has within their mandate the elicit practice of torture carefully worded under the security measures act to present as a legitimate and acceptable mode of questioning and interrogation.
Despite appeals by certain members of Congress, the Bush administration is holding steadfastly to the position that it will not allow Mr. Arar entry into the United States for the purpose of speaking on his own behalf in the capacity of his civil suit against the United States that is scheduled to begin next month, this despite the fact that it is now uncontested that Arar has no Al-Qaeda lineage or connection. Mr. Arar remains on the no fly list.
My name is Mr. James- my mother and I have suffered many parallels to the Arar case, involving a trial housing covert government agencies on the jury pool and judiciary that has since been publicaly exposed as corrupt (as can be seen on my website:aaronjamesstory.com) We have endured now 2 full years of incessant persecution elicit unsanctioned threats and intimidation in a myriad of forms and have been terribly traumatized by this illegal and audacious ordeal. We seek timely redress to end our continued persecution and suffering.
: I can be reached at resist1000@(at)usa(dot)com; lindajames(at)mts(dot)net"
TERROR WATCH LIST FLAWED/ DANGEROUS SAYS JUSTICE(CLICK HERE)
and yet...Canadian
Government Minister of "Public Safety" (
supports Vague Terror List
Ironically the Vague Terror list supported by rogue Canadian government - has ensnared their own people at times due to name similarities with other people they are (wrongfully) targeting!! - Just deserved punishment!!!
Canadian MP (Member of Parliament) Pat Martin and MP Bill Graham are two such government subjects caught up in their own vile terror list dogma!!
MP Pat Martin is a false political opportunist: and road the coat tails of media attention given Winnipeg Doctor Ahmed Farooq, who was also profiled on board an aircraft in the United States- MP Pat Martin stating, ""It's the most egregious example of this device of racial profiling I know about among my constituents," said Martin. "These are valuable, upstanding members of our society. Civil rights shouldn't be collateral damage in this whole fight against terrorism.(click)"We appealed to both MP Pat Martin and MP Bill Graham for assistance but because our case has been censored and thus no media publicity to exploit, we received no response from either of them!
MP Pat Martin stated to airport security "I'm going to get violent if this happens again!!!" -Ironic- I a non government member make no threats yet I am attacked and left in a pool of blood- MP Pat Martin makes overt threats without any consequence to his person- just one more example of how we live in an elitist multi-tiered system where the citizen is considered inferior/subservient to a government that is supposedly in place to serve the citizens as PUBLIC SERVANTS!!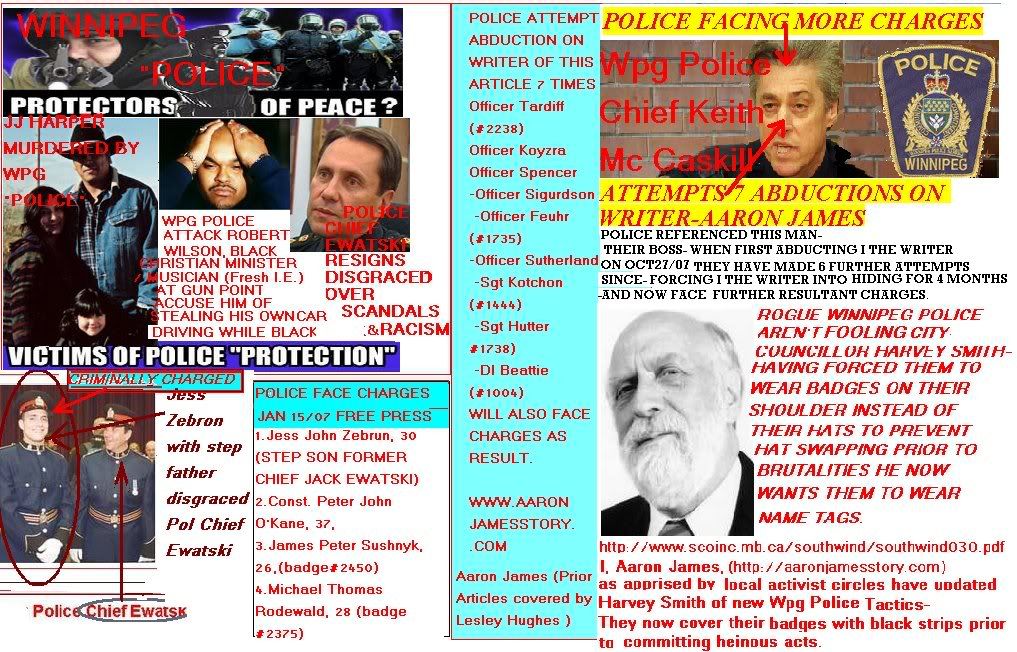 Many More Government / Advocacy Bodies Yet to upload.
***NAMES OF GOVERNING BODIES ADVOCACY GROUPS AND INDIVIDUALS RESPONSIBLE FOR DELINQUENCY AND /OR WANTON MALICE IN OUR PLIGHT:
Documented history/ and scanned in originals of refusals recorded:
David Chomiak, Minister of Justice/ Attorney General for Manitoba
,
204, 945 3728 E: minjus@leg.gov.mb.ca Fax: 204 945 2517

*

**

defers

our complaint

about the *cross border collusion attack by
Winnipeg Police (click)
,
back to the offending party
-

THE
*WINNIPEG POLICE(click)

AND FBI GRADUATE WINNIPEG POLICE CHIEF KEITH
KEITH MC CASKILL
!! THESE

SAME OFFICERS ARE NOW CHARGED
WITH SIMILAR ACTS AFTER 1 YEAR INVESTIGATION(click)!

*ATTORNEY GENERAL/ MIN JUSTICE DAVID CHOMIAK'S DISMISSIVE DEFERAL TO offending party WPG POLICE documents scanned in below:

page 1 scan in Inspector Boyd Campbell Division #11 Winnipeg Police Service: "

Your letter sent to the Minister of Justice on December 7th,
was forwarded to my attention from Mr. Al Brolly, Director ...It was
forwarded to me as the officers involved with your son fall under my command in the division #11 area of downtown...we do not accept 3rd party complaints.
..

"

CLICK ON PHOTOS TO ENLARGE THEM:

Page 2 above: Correspondence from my family- Linda James- to our lawyer in Winnipeg,Canada Our comments: "...so much for making a complaint to the Minister of Justice's Office. They've sent our complaint to the offending party-the Winnipeg Police..." Letter from Alan Brody on behalf of 'Justice' Minister David Chomiak: "I am resonding on behalf of Min Justice...regarding your

allegations

against several Winnipeg Police
service police officers'

actions concerning your son Aaron James. I can advise you that your complaint needs to be directed to the Chief of Police for the Winnipeg Police Service..."

***THE

CURRENT CHIEF OF POLICE KEITH MC CASKILL
IS AN FBI GRADUATE!!

-THE FBI AND MINNEAPOLIS ARE COLLECTIVELY INVOLVED IN THE OCT 27 ATTACK(CLICK!!)- AND MIN JUSTICE KEITH DAVID CHOMIAK DEFERRED TO THESE SAME OFFENDING PARTIES TO HANDLE OUR COMPLAINT!!

PAGE BELOW IS OUR ORIGINAL COMPLAINT TO PROVINCIAL MINISTER OF JUSTICE DAVID CHOMIAK

CLICK PHOTO TO ENLARGE



Minnesota Board of Peace Officer Standards and Training –IS A FRONT DESIGNED TO COVER UP POLICE MISCONDUCT (DETAILED BELOW) THAT ADVERTISES THEMSELVES ON-LINE AS AN ADVOCACY RESOURCE FOR COMPLAINTS OF POLICE MISCONDUCT-BE WARNED!
They were integral and pivotal in setting up the scenario for our tribunal secret government body 'jury pool' as described in detail below...
TO CONTACT: 651 643 3060, FAX: 651 643 3072
Neil Melton, Executive Director:
neil.melton@state.mn.us
Paul Monteen, Standards Coordinator:
paul.monteen@state.mn.us
Under the mission statement of P.O.S.T. (Peace Officer Standards and Training) it reads… "…Investigate allegations of professional misconduct and the unauthorized practice of law enforcement"
We had forwarded them a detailed complaint- they had not responded to us- Moreover,
unbeknownst to us at the time, only one week prior to our 'trial' they had forwarded our complaint to the FBI and the prosecuting attorney assigned to the false trial imposed upon us in the context of a trial that had CIA NSA FBI on the jury pool itself!

more detail in the following:
"I'M SHOOTING!" –This is the response I got from Paul Monteen, standards coordinator, when I called-
*** Paul Monteen was not interested in hearing about complaints of misconduct- He was SHOOTING-Practicing to be a good shot the next time he finds himself involved in another bout of police brutality and misconduct.
***Contained in the following discussion are links proving irrefutably that PAUL MONTEEN -far from being interested in heraring about and acting on complaints of misconduct -WAS AND IS INTERESTED IN PROPOGATING POLICE MISCONDUCT-the proverbial wolf in sheep skin's clothing an:

Based on correspondence between Paul Monteen of P.O.S.T. and the FBI, a detailed copy of the complaint we had submitted to P.O.S.T. was forwarded to the FBI
and to the prosecution
!.
In discovery for evidence at the
SECRET GOVERNMENT TRIBUNAL
(
http://courtcorruption90.blogspot.com/
) the facts of this insidious knavery became transparent to my mother and I- but it was too late.
...Our
'defense' attorney Robert Jones
(
http://defenseattorneyconspirestoaideprosecu.blogspot.com/
) produced a document that detailed email correspondence between P.O.S.T. Coordinator Paul Monteen and another member of his organization, stating
"MATT PLEASE FORWARD TO THE FBI
(
http://policecomplaintscentrecorrupt.blogspot.com/
)" -
–this complaint contained within it the nuances of how we had solved the riddle of their lies and deceptions using their own statements, and proven our case against them and our innocence therein…the prosecution realized that this could entirely dismantle and prove fraudulent, their entire case and acted quickly;
In keeping with further abuse of latitude and protocol, a last minute secret meeting was held between the prosecution, the FBI and the MN Airport Police the Friday before the Monday trial – during this meeting based on evidence that we had exposed the nuances of the lies and deceptions within their statements, …a second charge of MINOR assault (to accompany the major charge) was added in light of the fact that they were no longer assured of themselves. They needed to be assured of a conviction by any means to prevent a copious investigation that would result from an innocent finding...
Moreover, one of the officer's who had been occluded from mention in the reports-Sergeant Alvin Cooper- submitted a last minute report on the basis that our report revealed we had knowledge of his presence and his identity. Unfortunately this last ditch last minute report was rushed to the extent that reading it, you will notice that Alvin Cooper mistakenly has himself reported as being in TWO PLACES AT THE SAME TIME! – You might ask 'would that not have dismantled their case forthwith?' I remind you the jury pool was comprised of the Government itself and to use the term 'Trial' or 'Justice" in the same context or breadth of our ordeal, is an abomination and abuse of both terms.
THE CANADIAN CONSULATE
is

P

erhaps the biggest offender

- Most Canadians and Americans would assume that if they got into difficulty in a foreign country and is was obvious that violations had been incurred to their persons and they were being abused, the Consular office would take measures to intervene on that citizen's behalf. That is what they have us believe. I AM HERE TO TELL ALL OF YOU THE MYTH OF FOREIGN PROTECTION UNDER THE UMBRELLA OF CITIZENSHIP- After being attacked left in a pool of blood on a MN Northwest Airlines flight, and threatened, Canadian Consular representative ESTELLE ARANUD- BATTAHDIER (612 492 2917) stated to me on the phone as I sat there framed jailed and bloodied, "I'm sorry we do not get involved in US affairs- this is beyond our jurisdiction- of course let us know if you are being tortured or made to perform degrading acts but still, we cannot get involved…"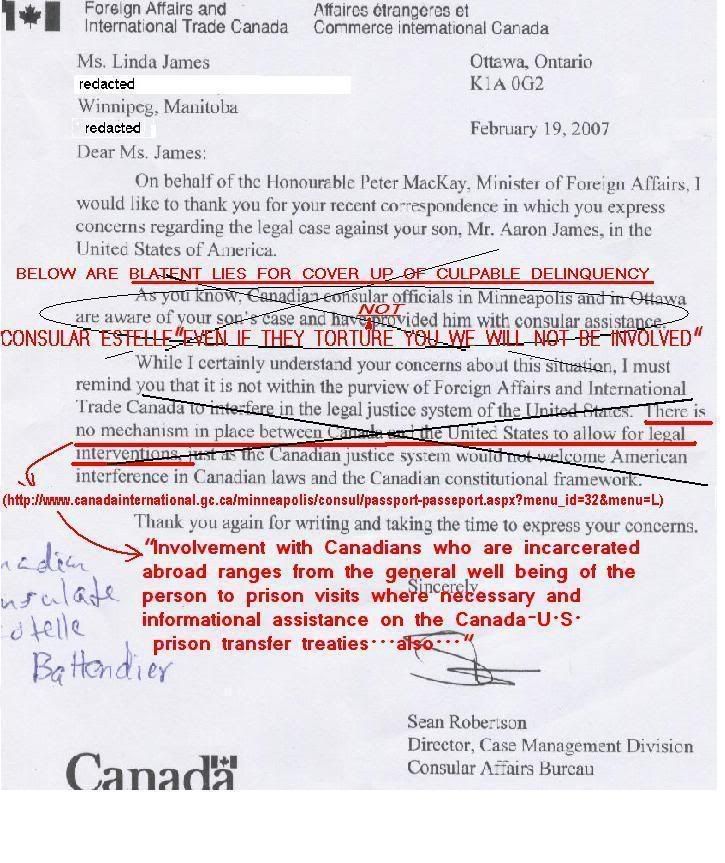 ***NOW GO BACK TO GLOBE AND MAIL AUG 10/07 ISSUE:

"OTTAWA SACRIFICED ARAR TO SAVE FACE WITH SYRIA AND THE UNITED STATES"




It was at this moment that the full clarity of our abandonment by the Canadian government came into its proper stunning focus. Canadian Consulate Ottawa Ph: 800 387 3124
Canadian Consulate Exposed Delinquent
in our abandonment: An esteemed investigative reporter working on behalf of Canadian Dimension magazine, has just recently ( on or about Sept12/07) placed a phone call into Canadian Consulate representative Estelle Arnud -Battahdier to inquire about the Consular role in our case. As the reporter indicates, Estelle deflected questions concerning her role and the consular involvement, citing the Privacy Act which prevents her from discussing individual cases. Estelle redirected the reporter to another section of the Consular division, whereupon the reporter spoke to another representative...***The representative, by the reporter's account, pointed to a web site citing a lengthy list of services offered to Canadian citizens under the Canadian Consular umbrella- none of which were afforded my mother and I, the journalist duly noted.

Twice I had placed a call into Estelle Arnud- Battahdier, the Canadian Consular representative operating out of Minneapolis where the profiling attack had occured. Twice she had left us completely bereft without any support or advocacy of any kind. On the first instance, I was calling locally from the prison cell where I was being illegally held (no miranda) and interrogated by FBI who were trying to link me to radical jihad and alquaeda: I told her I felt my life was in danger and I had been profiled and attacked. Her response: "We do not get involved in U.S. affairs...let us know if they torture you or ask you to committ any indecent acts- beyond this we will not get involved"


The second call requesting her assistance came at the time of the "trial" which housed members of CIA, NSA, FBI, Military and other conspicuous elements on the jury pool itself , with a criminally charged X-U.S. Marine as judge...I had expressed concern over the safety of my mother and I once again, and my emotional strife would have been very apparant over the line on this occassion- again her response was disimpassioned and cold as it had been the time before and it was clear we were being left to our own devices and very possibly to our demise.



Canadian Human Rights Refusal ***SEE NEW

PUBLIC CHARGES AGAINST CANDIAN HUMAN RIGHTS FOR WIFI theft -many of their employees involved in wi-fi signal theft in order to both spy and to post racist messages on websites using character identitiy theft on line!! see further below!!(or click here!)

-

Negligence in Abandoning Our Family Without Even Reading About our Case
http://canadianhumanrightsrefuse.blogspot.com/
Canadian Human Rights
CORRUPTION OVERTLY EXPOSED HEREIN: A REFUSAL LETTER SENT ON THE SAME DAY AS THE DELIBERATION WAS TO TAKE PLACE!: Candace-Crystal Rock 1-888-643 3304 or 613 947 7279 and Nicole Ritchot Regional Director(
http://canadianhumanrightsrefuse.blogspot.com/
):

CLICK ON
Of these two individuals I can say only that their dismissiveness and dishonesty precedes them and is EXPOSED HEREIN: Candice-Crystal Rock Intake Officer:
"The difficulties that you have encountered appear to fall under American jurisdiction.
Consequently, I would have suggested you contact the Minnesota Department of Human rights; however, I see that you have already done so (she had the MN Dept Human rights refusal letter to inform her of this). Your materials are returned with this letter." (
http://canadianhumanrightsrefuse.blogspot.com
)
*NOTE THAT THE PRECEEDING REFUSAL LETTER is dated JUNE 28TH- YET UNBENOWNST TO Candace, I HAD JUST RECEIVED A LETTER OF CONSIDERATION IN THE MAIL FROM NICOLE RITCHOT THAT MORNING dated JULY 10 :
July 10th: Letter Received from Nicole Ritchot "Further to our various conversations the latest of which were on JUNE 28/06, …I wish to confirm that we are seeking a legal opinion respecting whether or not a complaint filed against Northwest…would fall within the jurisdiction of the Canadian Human Rights Act." YET SEE THE ABOVE REFUSAL- THE REFUSAL LETTER RECEIVED BY MAIL IS DATED JUNE 28TH-

THE VERY DATE OF THE CONVERSATION THAT WAS STILL TO BE DELIBERATED ON AND

12 FULL DAYS BEFORE A LETTER WAS RECEIVED BY HER COUNTERPART STATING THEY WERE STILL DELIBERATING ON IT !!!

CANADIAN HUMAN RIGHTS CORRUPTION THUSLY EXPOSED.

"Policing is first and foremost a service to the public; the more it is at odds with the composition and values of that public, the less well it works" excerpt: Max Yalden, Chief Commissioner of the Canadian Human Rights Commission
Can. Human Rights Shameful Track Record
Criminal complaint filed against Canadian "Human Rights" Commission for theft of WiFi signals in order to spy on Canadians and post racist messages on Websites
"APRIL 2, 2008: Over the past few weeks it has been revealed that employees of the Canadian Human Rights Commission have been using fake pseudonyms to sign up accounts on website they have targeted as "hate" sites. In explosive allegations filed by Marc Lemire with the Ottawa Police Service and the RCMP, not only were the CHRC spying and posting misinformation on targeted websites – but they connected to the unsecured wireless access point of an unsuspecting neighbor and impersonated her internet connection to do it!" more(click)

http://www.policyalternatives.ca/MonitorIssues/2006/07/MonitorIssue1417/index.cfm?pa=DDC3F905

Foreign Affairs

(CLICK ON PHOTO TO ENLARGE

Abandons Citizens
http://ocap.ca/node/18
Notice how the treatment of the individual discussed in the main feature account parallels the nuances of the Arar Extraordinary rendition so closely - arrested at an airport in New York- arbitrarily detained, subject to lengthy terms of imprisonment and treatment in violation of the judicial code of standards...
ARTICLE ARCHIVED

http://foreignaffairsabandons2007.blogspot.com/
ACLU Refusal Of My Family and I
http://aclu66.blogspot.com/
ACLU REFUSES MY FAMILY AND I REFUSING US ASSISTANCE WITH INCREDULOUS EXCUSE AS FOLLOWS (SEE SCAN IN)
"...we restrict our involvement to cases which raise constitutional and civil rights issues."
We have been profiled, persecuted, attacked, threatened and maligned by the courts, and have been interviewed by a national newspaper just recently as such, and ACLU would claim that our civil rights and constitutuional rights have not been violated?
__***ACLU'S HISTORY OF NEGLECT:
ACLU HAS BEEN DENOUNCED FOR HISTORY OF REFUSING ADVOCACY TO THOSE IN NEED
http://www.banned-in-the-usa.net/aclu-a-fraud-that-betrays-victims.html
***
if not available at prior url then click
here
http://acluexposedfraudulent.blogspot.com/
ACLU
Rep Janelle Jaffer: Mr. Janelle Jaffer (
jjaffer@aclu.org
) 212 519 7814 will remember our repeated attempts at garnering assistance. However there would be no humanitarian component to be found at the American Civil Liberties Union. They, like the rest, were to be counted amongst the elements woven into the corrupted infrastructure of the capitalist political chain. ACLU Janelle Jaffer will also remember a heartfelt request that came from none other than CIVIL LIBERTIES MONITORING GROUP ROCHE TASSE-A PILLAR OF ETHICS AND CHARACTER WHO
APPEALED TO ACLU JANELLE JAFFER TO RECONSIDER THEIR POSITION
(
http://yetanothermnairportincident.blogspot.com/
)-his request was completely ignored.
NOTICE ACLU HAD THIS SITE
http://bannedinamerica.blogspot.com/2005/08/why-aclu-abandons-so-many-victims.html
REMOVED

BECAUSE OF THE NEGATIVE EXPOSURE MY SITE WAS GIVING THEM HOWEVER THE FIRST LINK ABOVE IS STILL ACTIVE. THE TRUTH CANNOT BE SUPPRESSED.
Amnesty International Canada:
They have tried to claim that our plight does not fall within their mandate. Illegal arbitrary detention, assault and battery threats, illegal trial, family intimidation surveillance and threats…They have clearly shown delinquency and negligence as pertains to our case. To Contact Amnesty Toronto:

Ph: 416 363 9933 (Aimee at ext 34) ext 24; fax 416 363 3103
Email:
aking@amnesty.ca
(Aimee at ext 34),
info@aito.ca
,
Toronto@amnesty.ca
Amnesty International Ottawa:
Ph: (613) 744 7667 or 1 800 AMNESTY (266 3789)
E:
info@amnesty.ca
; fax: 613 746 2411***Just recently a member from A member from Amnesty International U.K. (and also a member of the 9/11 Truth Movement) by the name of David Bo, had contacted us expressing his concerns over information of a horrendous act of brutality (regarding our plight) that had made its way across the seas into Great Britain. His email contact:
david.sherlock63@ntlworld.com
:
Amnesty International Member Resigns Over Amnesty International's Gross Negligence in our case.
http://www.nineeleven.co.uk/board/viewtopic.php?p=63506
"I tried to get them to help with the Aaron James case a few months ago. Aaron was a victim of racial profiling on an NWA flight.
http://www.aaronjamesstory.com/
and other individuals in need of help. They refused outright. Telling me "they do not take on individual cases".Amnesty "We Are Servants- Sheep"
A respondent to his blog states on same URL
"This is a really sad situation. I have never been a member of Amnesty International but I have supported them over the years in many ways and vividly recall leaflets which detailed accounts of how certain named political prisoners were being treated - so it comes as a bit of a surprise to read that they do not get involved with individual cases. That statement, along with the classic we are servants of AI and cannot deviate from the materials supplied to us on which to campaign, speaks volumes about what they have become"
Center For Constitutional Rights Refuses,- Barbera Olshansky's Original promises and fervent assurances of her assistance rescinded upon without any explanation
http://barbaraolshansky.blogspot.com/
MN Governor Tim. Pawlenty Ignores Our Request For Advocacy Without So Much As a Reply
http://timpawlentyrefusestoassist.blogspot.com/
That MN
Governor Tim Pawlenty
(651) 296-3391 and related office did not assist us comes as no surprise to us upon a small amount of investigation: Tim Pawlenty has been publicly exposed as having
racial biases against minorities
Looking into the background of Minnesota Governor Tim Pawlenty, one discovers that Minnesota Governor Tim Pawlenty was pulicly denounced for a hate based political campaign of 2002, where he depicted images of terrorists running loose in Minnesota acting as demagogue and capitalizing off of

a mass public fed media propaganda to engender race based hatred.
This only makes sense, in that it is public knowledge that Minneapolis Minnesota is notorious for its governmental tendency towards racial profiling and discrimination as can be seen at the following URL:
http://wcco.com/topstories/local_story_027125547.html
ARCHIVED ARTICLE:
http://timpawlentyracistarchive.blogspot.com/
MN Department of Human Rights:
Michael Yang , and to Lucy Johnson Gaines (651-296-7518) Janet Ph: 651 296 5663
MINNESOTA DEPT HUMAN RIGHTS REFUSAL AND ADMONISHMENT/ACCUSATION UPON OUR FAMILY:
" …it does not appear that any of the complaints you have raised regarding the Minneapolis/St. Paul Airport Police fall within discriminatory practices prohibited under the Minnesota Human Rights Act…'
(One is to suppose being accused of suspicious bag profiled attacked and left in a pool of blood is then, acceptable, by their standards…)

the document continues
,

'IT APPEARS YOU WERE ARRESTED AND DETAINED BASED UPON YOUR BEHAVIOUR

…the department will take no further action…"

MN Human Rights Prejudicial Contentious Refusal Evidence
of Racial Disparity in Minneapolis
click photo to enlarge:

June 16th: Our futile appeal to Minnesota Human Rights Department Only several days before the
'trial'
(
http://courtcorruption90.blogspot.com/
)
We spoke to Michael Yang , and to Lucy Johnson Gaines (651-296-7518)
We also spoke to Janet Ph: 651 296 5663 and submitted a full report form to her.
***(On Oct 18th we received their hostile response: We had submitted a registered letter several months prior (June 16th as stated above) giving notice of the hyenas acts committed and the danger we were in and what we received in the mail, without so much as a phone call, was the verbal lambaste and desecration detailed in the following: "IT APPEARS YOU WERE ARRESTED AND DETAINED BASED UPON YOUR BEHAVIOUR…"
Minnesota State has become notorious for prejudice and profiling
(
http://wcco.com/topstories/local_story_027125547.html
) :
Signed : David L. Castledine, Human Rights Enforcement Officer, 651 296 9046
Stockwell Day No Help, Supports Vague Terror List
http://brichert.wordpress.com/2006/08/21/quick-update-on-terror-list/
ARTICLE ARCHIVED HERE
http://stockwelldayvagueterrorlist.blogspot.com/
Sen. Mark Dayton
Unwilling To Assist Despite filling his application form and his written assurances
http://markdayton55.blogspot.com/
Senator Mark Dayton
612-727-5220 CORRUPTION EXPOSED-OFFICE ASSISTANT NATE ARCH DISMISSIVE CLAIMS THEY CANNOT ACT ON OUR BEHALF
WHILE SCANNED IN DOCUMENT STATES THEY ARE ABLE TO PROVIDE ADVOCACY:
http://markdayton55.blogspot.com/
Mark did not respond in any way whatsoever despite earnest and diligent attempt to garner his assistance. We took the time to fill out the request forms that he sent us as can be seen at
http://markdayton55.blogspot.com/
and so should he attempt to fain ignorance of our plight one need only direct him to the above url as a 'reminder' of the correspondence we have had with him-that came to no avail. We had placed a call to his office on or about June 16th requesting assistance, and had been sent a form to fill out which we promptly completed and returned express post registered mail. Over 6 weeks went by and on July 28 I placed a call in to his office. We had been assured in writing (
http://markdayton55.blogspot.com/
) BY MARK DAYTON DIRECTLY as follows: "I have asked Nate Arch in my Fort Snelling office to look into this matter for you…this form grants my office permission to act on your behalf" Yet when I called the office on July 28th and spoke to a dismissive Nate Arch, he stated "well we just can't do that (assist you)" and the conversation ended promptly-
.

I have a

taped recording

of this conversation with his administrative assistant Nate Arch, in which he is extremely dismissive when I mention profiling

and racial discrimination

.
Steven Fletcher's Office Writes To Ottawa (Federal Level); Ottawa does not respond
http://stevenfletcher9.blogspot.com/
U.S. DEPARTMENT OF JUSTICE BOTH DELINQUENT AND CRIMINAL
Having already cited and provided url references for the fact that the U.S. Department now openly sanctions torture (
www.humanrightsfirst.org/us_law/etn/gonzales/memos_dir/memo_20020801_JD_%20Gonz_.pdf
*Revolking the Governments License to Kill
http://www.isil.org/resources/lit/license-to-kill.html
), and has been
illegally
involved in the practice of torture for years in an intensive manner since 2001, I reference herein, interaction I have had with the U.S. Department of Justice in seeking advocacy from their Justice division.
U.S. Department of Justice, Programs Office For Civil Rights, Washington To Contact them: toll free 1 800 514 0301, PH 202 307 0690, Fax: 202 616 9865
Appellate Section 202 514 6255 (Mr. Walker or Anthony Njoku, E:
anthony.njoku@usdoj.gov
)
Chief Criminal Section Civil Rights Division U.S. Department of Justice (we also submitted our complaint to this department)
Ph:202 514 3204
False Image of Advocacy:
In speaking with
Anthony Njoku of theU.S. Department of Justice,
I was falsely made to believe that they amenable to providing advocacy on our behalf. Anthony took down the details of our plight diligently and two weeks went by wherein there was continuous communication. Only then through the course of conversation, was it revealed on to me, that Anthony at no point intended to assist us- "Oh well you see really I'm very sorry to here about your situation and we wish we could help…but we aren't able to actually assist you… we just do information gathering…we don't actually act on behalf of individuals…" While sleeping with my door barricaded and my family living in terror, he had wasted our time and hours spent over the phone to do information gathering with no aim towards assistance?
***PREMEDITATED INTENT: Our contact with the U.S. Department of Justice Civil Rights Division began
PRIOR
to the tribunal- style trial
housing members and or affiliates of secret government agents on the jury pool. The U.S. Department of Justice has been proven criminal in the illegal participation in torture for the extraction of information and shamed under the Gonzales scandal as fraudulent and corrupt with a self serving agenda.
U.S. DEPT OF JUSTICE AND U.S. CONGRESS JOINTLY SANCTIONED THE TORTURE OF Maher ARAR
http://www.warren-wilson.edu/~echo/030705/torture.html
USING A NEWLY COINED TERM, MADE SPECIFICALLY TO SANCTION HIS DEPORTATION TO TORTURE, CALLED 'EXTRAORDINARY RENDITION' A RULING THAT IS AN OVERT AND SHAMEFUL CRIMINAL 'VIOLATION OF THE GENEVA CONVENTION' ITSELF AND 'A VIOLATION OF UNIVERSAL HUMAN RIGHTS' (Monia Mozigh) !- Again, Challenge these detestable villains: contact information provided above; This is also A FACT THAT MONIA MOZIGH, WIFE OF ARAR MADE CLEAR DURING HER PRESENTATION AT THE WINNIPEG CONVENTION that I attended Feb 24/07 of this year, at which my mother and I had opportunity to speak with Monia at some length. Monia's words as I cited them at the forum which I attended having her as guest speaker: "How can we consider ourselves to be a civilized nation if we consider torture as a means to extract information? …this action CONDEMNS THE UNIVERSAL CHARTER OF HUMAN RIGHTS…Hundreds of Thousands are being tortured overseas under the guise of 'National Security'."It has been conjectured that they also work in conjunction with
Co-Intel Pro
(
http://www.afro.com/history/Panthers/Cointel/Cointel.html
)
U.S. DEPARTMENT OF JUSTICE- MORE DAMAGING EVIDENCE AGAINST THEM
:
http://www.mail.com/Article.aspx?articlepath=APNews\Top%20Headlines\Attorney_General_20070914.xml&cat=topheadlines&subcat=&pageid=1
Gonzales Leaves Scandal-Scarred Justice Department
Friday, September 14, 2007 7:11:15 PM
By LARA JAKES JORDAN
…Gonzales left the scandal-scarred Justice Department on Friday, declaring himself hopeful about its mission of ferreting out crime and defending the truth. President Bush is expected to announce a nominee next week to replace his longtime friend and fellow Texan. Gonzales quit after 2 1/2 years at the department amid investigations into whether he broke the law and lied to Congress. He has denied any wrongdoing
Protesters who for months had dogged Gonzales at congressional hearings and other public appearances blew party horns and shook tambourines outside the Justice Department during the ceremony.
Gonzales' conflicting public statements about the ousters led Democrats and Republicans alike to criticize his honesty. Their charges were compounded by his later sworn testimony about the Bush administration's terrorist surveillance program, which was contradicted by FBI Director Robert S. Mueller and former senior Justice Department officials.History may not be kind to Gonzales' tenure at the Justice Department, which he is accused of using as an arm of a more political White House… he took advantage of every loophole available to make sure the Justice Department served political ends to help Republicans and hurt Democrats," said Paul F. Rothstein, a Georgetown Law School professor of legal and government ethics. "If it had gone on, the public's confidence and impartiality of the Justice Department would have been severely eroded."
United Nations UNHRC (United Nations Human Rights Council)
http://www.ohchr.org/english/bodies/hrcouncil/
Main telephone +41 22 917 9000 For urgent matters
tb-petitions@ohchr.org
,
urgent-action@ohchr.org
, fax to +41 22 917 90 06,: This body has already
REFUSED US ASSISTANCE CLAIMING IT WAS NOT IN THEIR MANDATE-AFTER ASSURING US THEY HAD A SPECIAL LITIGATIONS SECTION DESIGNED SPECIFICALLY TO DEAL WITH UNITED STATES ISSUES!
Yet My own research on United Nations finds them delinquent under their very own mandate:
Special Procedures/Complaints:
"Some special procedures mechanisms intervene directly with Governments on specific allegations of violations of human rights that come within their mandates. The intervention can relate to a human rights violation that has already occurred, is ongoing, or which has a high risk of occurring." My own research corroborates this point and duly implicates the United States' Federal Law Enforcement Courts and related subsidiaries therein: "…United States declaration that certain articles of the Convention were non-self-executing simply established how those articles would be implemented in domestic law and did not limit United States obligations…"
http://search.ohchr.org/search?q=cache:kWB6mpM8vzUJ:www.unhchr.ch/tbs/doc.nsf/898586b1dc7b4043c1256a450044f331/596d23c6607a32b0802568ef00384d39/%24FILE/G0042145.pdf+special+litigation+united+states&access=p&output=xml_no_dtd&ie=utf8&client=default_frontend&site=default_collection&proxystylesheet=default_frontend&oe=UTF-8
I will also remind readers that I was denied doctor ordered medical attention to my injuries in Hennipen County, having been illegally detained Jan18/06 without any Miranda rights read at any time. Again by the above URL I cite the following: "…medical attention was routinely provided to any person in need of it at the time of arrest, (there was no 'arrest' only a beating/No Miranda) including access to a physician if warranted, A RIGHT GUARANTEED UNDER THE DUE PROCESS CLAUSES OF THE FIFTH AND FOURTEENTH AMENDMENTS TO THE CONSITUTION." The United Nations cannot be allowed to continue to be dismissive in our matter- THEY ARE IN VIOLATION OF DUE DILIGENCE TO THEIR OWN MANDATE IN THIS REGARD, AS IS ILLUSTRATED ABOVE. See if you can reach David Bo (he had previously sent email (
david.sherlock63@ntlworld.com
) He may be able to assist the United Nation reluctant adherence to mandate where others have been negligent
Office of Lawyers Professional Responsibility:
Collusion with State and Judiciary to preclude the process to justice and proper application of law: Having been deliberately misrepresented by defense attorney Robert Jones of Carlson and Jones, in what constituted a fundemental misscarriage of justice, in a judicial district that has been proven corrupt with collusion between prosecution and judges, with a criminally charged judge in the capacity of judge David S. Doty, presiding, we forwaded the nuances of our complaint to the Office of Lawyers Proressional Responsibility.
The complaint can be seen at http://defenseattorneyconspirestoaideprosecu.blogspot.com/
The response we received was overtly dismissive and a blatent attempt to deflect action or accountability within the system. Their letter of response is scanned in the documents below and reads "We need more information to consider your complaint. Please provide in writing the answers to the following: What did the lawyer do, or not do, which you believe was unethical?..." CLEARLY THEY DID NOT TAKE THE TIME TO READ WHATSOEVER THE 8 PAGE REPORT IN THE URL ABOVE OUTLINING ALL OF THIS- Or if they did, this response represents DELIBERATE STONEWALLING.
RESPONSE FROM OFFICE OF LAWYERS PROFESSIONAL RESPONSIBILITY CONSTITUTES DELIBERATE STONEWALLING:
FURTHER COLLUSION OF OFFICE OF LAWYERS PROFESSIONAL RESPONSIBILITY WITH BOARD OF JUDICIAL STANDARDS IN MAINTAINING STATUS QUO OF JUDICIAL CORRUPTION AND COLLUSION WITHIN HENNEPIN COUNTY JUDICIARY
(the judiciary responsible for our "jury pool", and the criminally charged judge cited above- the same judiciary responsible for jailing 21 people of color for every 1 white, within its cells...)
http://twincities.indymedia.org/newswire/display/29209/index.php
ARTICLE READS AS FOLLOWS: (Jill) Clark (defense attorney in Minneapolis) has gathered an array of court documents and audiotapes to support the existence of those problems (judicial corruption at Hennepin County), and reported them in two separate complaints with the Judicial Standards Board, one complaint with the Lawyer's Board of Professional Responsibility, and one lawsuit in federal district court. The complaints allege activities on the Hennepin County District Court that violate the standards for judges established in the Code of Judicial Conduct, standards for attorney's in the Minnesota Rules of Professional Conduct, and the Human Rights treaties. In violation of Article 9(5) of the Declaration on Human Rights Defenders, Jill Clark's complaints have not been investigated, nor have there been prompt reviews to date in a public hearing before an independent, impartial and competent authority as required by Article 9(5).VIOLATION OF ARTICLE 12(3): FAILURE TO PROTECT FROM RETALIATIONA retaliatory complaint filed on October 30, 2006 against Clark with the Lawyers Professional Responsibility Board by Chief Justice Wieland, one of the judges whose conduct Clark had reported to the Judicial Standards Board, has been allowed to proceed to investigation, including the requirement that Clark submit a written response to the 28 allegations made by Justice Wieland against her. "
MN
Senator Patrick Leahy
has gleamed positive media attention given his apparent initiative against the monstrosities committed against the Arar family. However, when it came time to contact the office of Mr Patrick Leahy, we were very disappointed. There was not so much as a response-this despite repeated efforts at contact over several weeks on end. It would seem they have made their position quite clear. Was Senator Leahy's adamant admonishment of Arar's oppressors made only in order to garner political advantage? When Senator Leahy resounded, No (President Bush should not be worried about his coming to power)…no…he should be terrified!" in the context of his libertarian views and mandate, again, was this sincere or simply shrewd political savy?
Vic Toews,
Minister of Justice?
Ironic considering
he has a criminal record
(
http://www.cbc.ca/canada/manitoba/story/2005/01/27/mb_toews-guilty-20050126.html
) in fact my research has revealed that a large percentage of those in government office (over 50%) have records of one sort or another …He would also refuse to assist us and
.
Yet one need not focus merely on his unethical background in explaining his delinquency and reluctance to assist us: his tyrannical position on the unjust application of law has been made very clear: "Drop Most Preliminary Hearings, Toews Suggests…see
http://www.cbc.ca/canada/newfoundland-labrador/story/2006/08/21/toews-prelim.html
.
Inter-American Commission on Human Rights
Refused any and all assistance.Contact Brian Tittemore/ Legal Department: 202 458 6002 Fax: 202 458 3992 E:
btittemore@aos.org
, general email:
eidhoea@oas.org
,
Congressman Kendrick Meek
To contact Kendrick Meek, visit his
official website
, or phone his office at (202) 225-4506. fax: 202 225 4506 was referred to us by the Congressional Black Caucus of the United States Congress (202 226 9776, Myra Dandridge Project Coordinator or Paul Brathwaite Exec Director E:
nc12.public@mail.house.gov
).
We were told that Congressman Meek was in a position of great influence, being a member of the Armed Services Special Task Force Committee and would be able to act on our behalf
.
Congressman Kendrick Meek was entirely dismissive and afforded us no extension of advocacy.
Congressman Kendrick Meek To contact Kendrick Meek, visit his
official website
, or phone his office at (202) 225-4506. fax: 202 225 4506 was referred to us by the Congressional Black Caucus of the United States Congress (202 226 9776, Myra Dandridge Project Coordinator or Paul Brathwaite Exec Director E:
nc12.public@mail.house.gov
).
By all appearances Congressman Meek has taken the position of tolerance for military/ police brutality rather than the admonishment of such. And let us not forget that U.S. Congress SANCTIONED THE EXTRAORDINARY RENDITION AND TORTURE OF MAHER ARAR AND OTHERS IN VIOLATION OF GENEVA CONVENTION.
HOW CAN WE CLAIM TO BE CIVILIZED AS A NATION IF WE SANCTION TORTURE AS A MEANS OF INTERROGATION? HOW CAN WE CLAIM TO BE IN A POSITION TO DICTATE POLICY FROM A SUPPOSED POSITION OF MORAL AND ETHICAL SUPERIORITY IF WE ENGAGE IN BARBARIANISM AND CONDONE IT WORLDWIDE?!
Greg Bergstrom Minnesota House of Representatives Phone: 651-296-5396 Fax: 651 296 1222E-mail: Greg.Bergstrom@house.mn–-REFUSAL OF ASSISTANCEConstituent Services Coordinator (Maj) - DFL CaucusI have contact with Mr Bergstrom's office only vaguely in my remembrance- why? As I recall, we were summarily dismissed upon our first contact with his office- apparently it was not enough to have stated I sleep with my door barricaded and my family friends and associates are under attack and concerned for our lives… also remember when you are contacting government office: The 'extraordinary rendition' and torture of Maher Arar was SANCTIONED by U.S. Congress and U.S. Department of Justice, and that all governmental offices are affilitates…

Vic Toews, Minister Of Justice Tyrannical, cited as attempting to further undermine justice http://www.cbc.ca/canada/newfoundland-labrador/story/2006/08/21/toews-prelim.html

Vic Toews Minister of Justice has criminal past http://www.cbc.ca/canada/manitoba/story/2005/01/27/mb_toews-guilty-20050126.html
Refusals From Canadian Government Due To PM Harper's Extremist Policies http://medpot.net/forums//index.php?s=5fb036755c572f0a1b20792ed0bbaf3e&showtopic=36541

You the reader, have now been exposed to perhaps a greater awareness of the level Corruption and Collusion involved in the various facets of government and state – you have seen how these sinister agencies have maligned my mother and I. You have seen how the corporate moguls state judiciary and secret operatives have united under the umbrella of the "global elite" and how our very freedoms liberties and lives are in jeopardy at the hands of these tyrants. My mother and I have only one request- please act on the information we have provided and thereby give power to truth.

Please ask the members of government and office we have listed herein why it is they have abandoned my family.
Remember, in the final analysis, our plight is the plight of all under the influence of government tyranny and corruption- and that includes almost all of us…
First they came for the Jewsand I did not speak outbecause I was not a Jew.
...Then they came for the Communistsand I did not speak outbecause I was not a Communist.
...Then they came for the trade unionistsand I did not speak outbecause I was not a trade unionist.

...Then they came for me and there was no one leftto speak out for me.
Author: Pastor Martin Niemöller, imprisoned juring Hitler's Regime, 1930's.

Sincerely, Aaron James, Linda James 204 474 0654, resist1000@usa.com, http://justiceforjamesfamily.blogspot.com/